Method of Action
Boric acid (H3BO3) is introduced to a metallic substrate in the presence of water (H2O).
INTERACTION
Covalent interaction between the metallic substrate, boric acid (H3BO3) and water (H2O), forms a metallic boroxide (B2O3) boundary layer that bonds to the substrate, forming a corrosion-resistant barrier.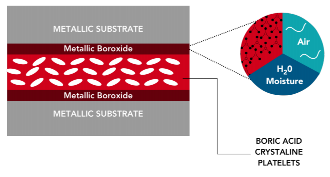 CRYSTALLINE PLATELETS
The remaining boric acid molecules form into layers of crystalline platelets, each of which is a triclinic lattice of molecules strongly bound together by a macromolecular ionic (electromagnetic) bond. 
Any abraded metallic boroxide and crystalline platelets spontaneously react with available moisture, replenishing the free boric acid (B2O3 + 3H2O > 2H2BO3).
ALIGNMENT
Aligned by the mechanical motion of the substrate, the platelets form stacked layers with very small  (0.318 nm) spaces between.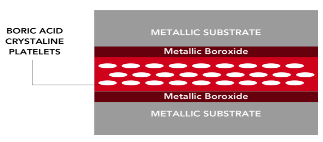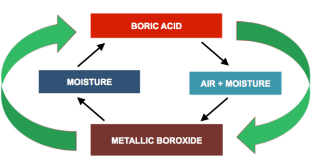 LOW FRICTION
The inter-platelet layers are bound by weak "Van der Waals" forces, allowing a very low coefficient of friction.
SELF-RENEWING CYCLE
Interaction between free boric acid (H3BO3), Metallic boroxide (B2O3), air and moisture (H2O), leads to a self-replenishing cycle, filling in any abraded gaps in the metallic boroxide and crystalline platelets.