STEP 1 : BIODEGRADABLE BORON CLS BOND® TREATMENT :
Boric Acid is introduced, as sub-micrometer particles of Boric Acid / hydrogen orthoborate in to the area requiring lubrication: typically in conjunction with and dispensed by a fluid, oil or grease.
STEP 2 : MICROMOLECULAR BOND TO THE METAL :
These particles, in the presence of moisture and air (only minute amounts required) react with metals to form a very thin film of Metallic Boroxide (boric oxide) on the metal substrate. This macromolecular bond (covalent, ionic and hydrogen) seals the metal surface and protects the metal from oxidation, corrosion and varnish, deposit and sludge formation.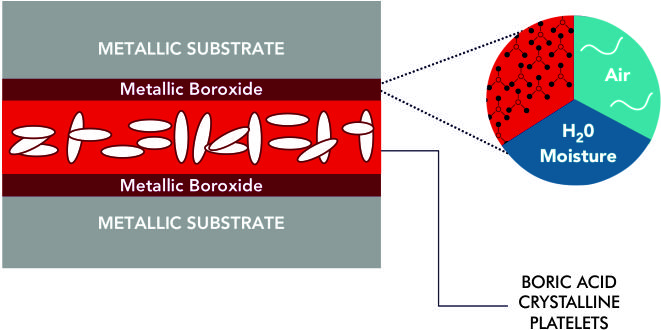 STEP 3 : FORMATION OF CRYSTALLINE PLATELETS :
Once formed, the Metallic Boroxide, in the presence of air, spontaneously produces a boundary layer (lattice) of crystalline platelets of boric acid / hydrogen orthoborate.
STEP 4 : CRYSTAL LATTICE STRUCTURE :
Crystalline Boric Acid platelets for a Crystal Lattice Structure, a 200-400 nanometer thick low-friction boundary layer of microscopic platelets. (Election microscope photograph of 15μ field of view)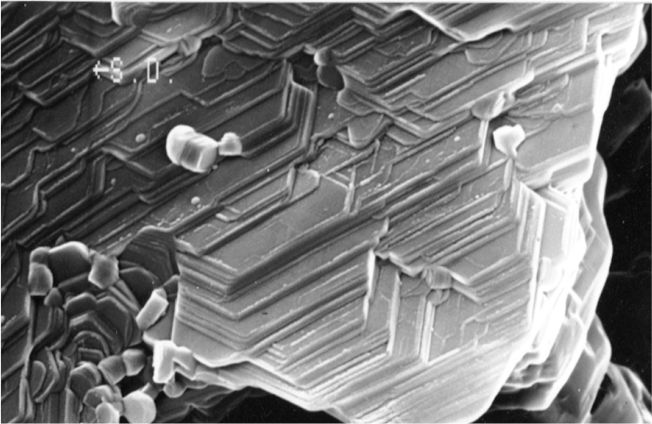 BONDING PROCESS :
The boundary layer formation process generally takes from one to twelve hours depending upon the amount of heat and friction present; both which accelerate the process.
STEP 5 : ALIGNMENT TO THE DIRECTION OF MOVEMENT :
The crystal platelets with the boundary layer align themselves parallel to the direction of substrate movement and in conformation with the substrate surface.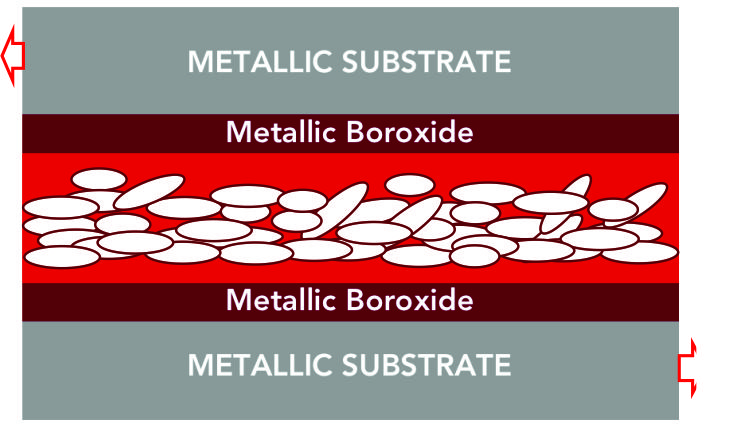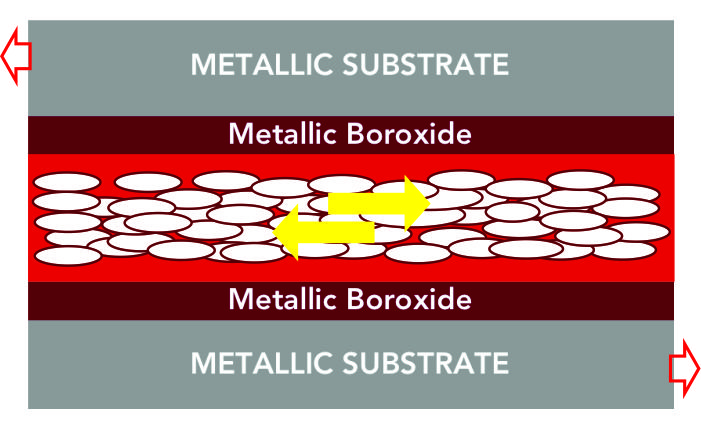 STEP 6 : ADVANCED FRICTION REDUCTION :
The platelets move over each other, inhibited only by weak van der Waals' forces allowing for very low friction between the substrate surfaces. (Co-efficient friction less than 0.01)
STEP 7 : ELIMINATION OF METAL TO METAL CONTACT – EXTREME PRESSURE PERFORMANCE :
Extreme hardness of crystalline lattice (85% of diamond) prevents metal-to-metal contact under heavy loads. (Timken loads exceeding 90)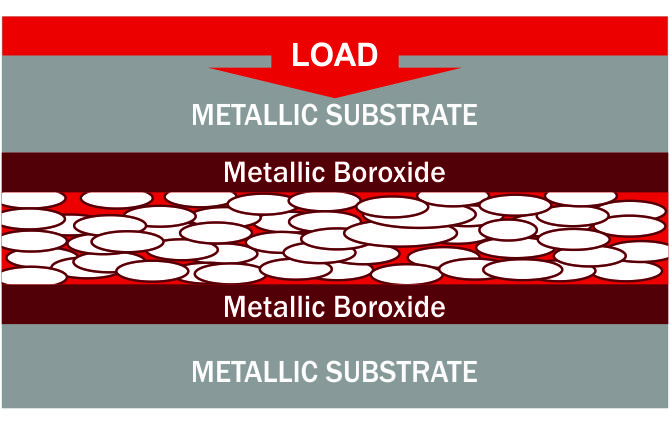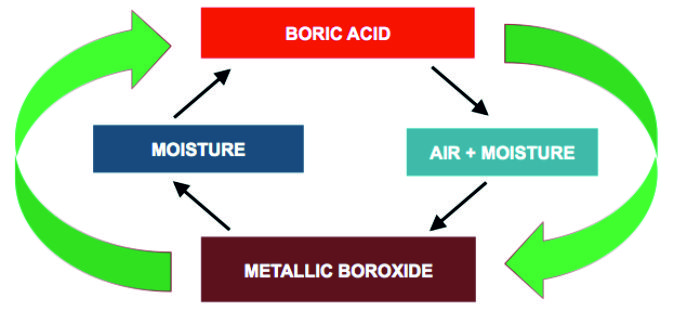 STEP 8 : SELF-RENEWING, LONG TERM LUBRICATION :
Self-renewing cycle : Interaction between Boric Acid, Metallic Boroxide, Air and Moisture leads to self-replenishing cycle, which dramatically extends the re-lubrication interval and stabilizes the overall performance of the base lubricant